Someone came up with the idea of having the kids in my daughter's third-grade class come to school dressed as characters from their favourite books (bringing the books to share). Her current favourites are the Judy Moody series, by Megan McDonald, so she used the cover of
Judy Moody, MD
as a guide - t-shirt, pants, one of my shirts as a smock, and a nametag paper-clipped to her pocket.
That was just the school costume, though. For trick-or-treating she took inspiration from a tv programme called
Halloweentown High
, and went as a ghoul cheerleader, complete with green face makeup.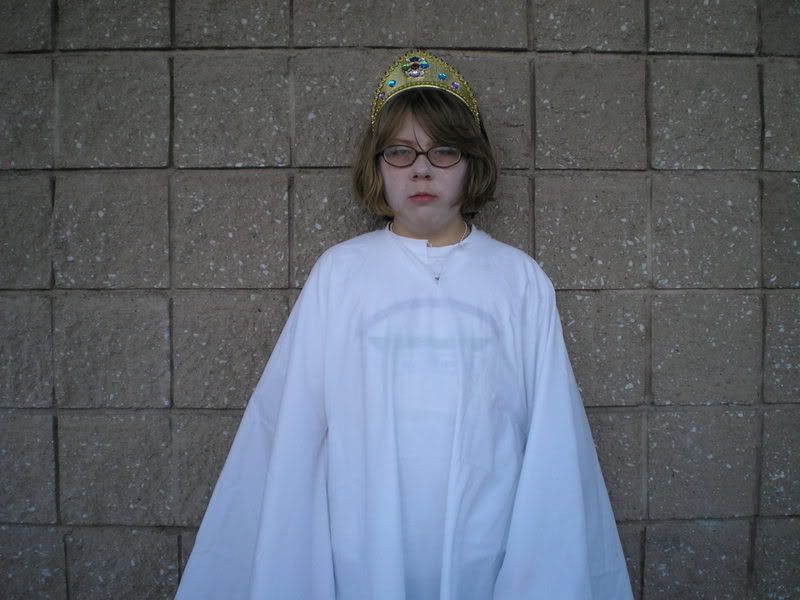 Her older sister decided to be a ghost princess, so my wife made her a white t-tunic (with big, flowing sleeves to cover the cast on her broken arm), and she added white face makeup and a tiara.
Around here they do trick-or-treating at the mall from 1600 to 1800. This gives the kids a nice, safe environment as they go around from store to store. After that we came home, freshened the girls' makeup, added chemlights
*
and went out around the neighbourhood. Not a bad haul, though I was rather surprised by how early they gave up.
* Thanks go to
LawDog
for the tip.